2004, Ireen with sons and daughter and some grandchildren on her birthday.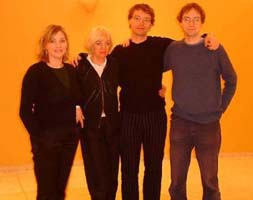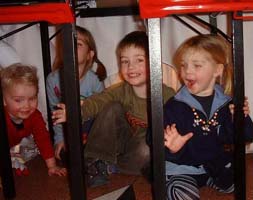 1999, PhD-thesis Mark: Studies in mechanical verification of mathematical proofs. M.P.J. Ruys
Download pdf (size 975 KB)
1971, 1965-06-05, Married with Ireen E. Broekhoven. Children: Mark P.J. (1966), Jurriaan H. (1967) and Heleen C. (1971).
1970, 1938-04-04, Born at Zeist, het Rond 4, the Netherlands. Parents: Piet F.M. Ruys and Ria M.Th. Ruys-Dunselman.
2003, Chairman, Board of Directors, Figi Groep b.v., from 2002: see figi zeist.
2002, Directeur, Figi Houdster Maatschappij b.v. from 1995. Van 1989-90: directeur, Ontwikkelingsmaatschappij Figi Zeist b.v.
1999, Voorzitter, Raad van Commissarissen, Ruys Interieurs b.v., vanaf 1979.
2000, 1950-1956, Gymnasium, Constantijn College, Amersfoort.
2000, 1956-1964. Student in econometrics at the Katholieke Hogeschool Tilburg.
2000, 1965/66, Graduate student, Department of Economics, University of Rochester, NY. Class of Lionel McKenzie.